Johnny Cole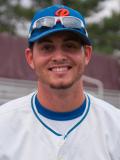 My Name is Johnny Cole and I play baseball I am number 27.

I have been playing baseball for 20 years and I play first base. Prior to coming to USCB I played at Costal Carolina and Palm Beach Atlantic. I am excited to be starting a new season and baseball career with the USCB Sand Sharks! Check out our website: USCB Baseball.
Baseball has been my main priority since I was little, I have always found a love for the game no matter what. It took me years of practice to get to where I am today. I am hoping that I can make a impact for the
USCB SAND SHARKS!
The Future for Johnny Cole
In my future I am hoping that I will still be playing baseball, either recreational or competitive. I have always strived to achieve my highest potential, not only on the field but also in my studies. I am currently in school for Communications and am striving to come out of collage with a future ahead of me. I am currently studyin at The University of South Carolina Beaufort. Check out our website for more details: The University Of South Carolina Beaufort
Some of my Favorite Baseball Teams are:
Miami Marlins
Washington Nationals
Kansas Royals
To check out standing/roster/schedule for these teams check out their website
Kansas Royals